Table of Contents
John Wilkes Booth and Abraham Lincoln in Albany
Lewis Carroll, Alice in Wonderland, and Through the Looking-Glass
The Wizard of Oz and Albany's "yellow brick road"
I. John Wilkes Booth and Abraham Lincoln in Albany
| | |
| --- | --- |
| Image | Image |
| John Wilkes Booth | Abraham Lincoln |
Photos courtesy of the Library of Congress
On April 14, 1865, at Ford's Theatre in Washington, D.C., John Wilkes Booth, actor, matinee idol, and Confederate sympathizer, fatally wounded President Abraham Lincoln with a gunshot to the head. Four years earlier, on February 18, 1861, Booth and Lincoln had been in Albany, New York on the same day. Lincoln, the president-elect, stopped in Albany en route to his inaugural. His future assassin, Booth, was performing at the Gayety Theatre, and may have been in the crowd that lined the streets to see the president-elect. That evening, Lincoln and his wife, Mary Todd Lincoln, dined with the governor and then greeted citizens who came to be presented to them in the public parlors of a local hotel. Booth, who was somewhat accident-prone, had injured himself on a dagger a few days earlier. He gave a passionate performance that evening with one arm strapped to his body. The next morning, Lincoln boarded his train, bound for Washington. Booth completed his Albany engagement.
By April 1861, Booth was in Albany for a third engagement at the Gayety Theatre. With him in the touring company was a young actress, Henrietta Irving. Following an evening performance, Irving and Booth had a lover's quarrel. Irving lunged at Booth with a knife, but he deflected the knife and – depending on the source – was slashed either on the face or the neck. Irving retreated to her room and tried, but failed, to commit suicide.  
By 1865, Irving was married to an actor named Edward Eddy and performing in New York City theaters. After Eddy's death, Irving faced financial straits and sued for his death benefits. She continued to perform, moving from roles as young women to those of spinster aunts.  A photo of Irving can be viewed at: http://www.mkfound.org/collections/10/sub_category/113/view_item/22709?page=64
Booth gave his final performance – as a real-life assassin – in Ford's Theatre on the evening of April 14, 1865.
Image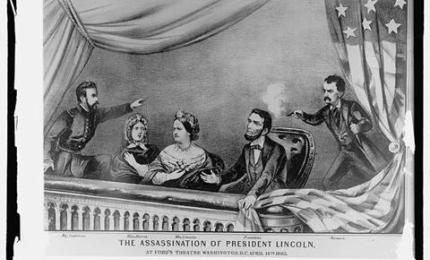 Assassination of President Lincoln
Print Courtesy of the Library of Congress
Booth's leap from the balcony of Lincoln's box at Ford's Theater and shout of Sic semper tyrannis ("Thus always to tyrants," the motto of the state of Virginia) was dramatic. However, the leap left him with a broken shinbone. He managed to escape on horseback and make his way to the home of Dr. Samuel Mudd. After receiving medical treatment, Booth continued his flight from his pursuers. He and a fellow conspirator crossed the river into Virginia by boat. A few days later, Booth was cornered in a rural Virginia barn by a military posse. He was shot by Thomas "Boston" Corbett, a sergeant who disobeyed the orders of his superior not to shoot. Booth's cervical vertebrae and spinal cord were shattered by the bullet. He was paralyzed and died slowly.
A hat maker by trade, Boston Corbett lived near Albany, in Troy, New York. He shared this connection to Albany and upstate New York with the young couple who joined the Lincolns in their box at the theater on the evening of the assassination. Major Henry Rathbone and his fiancée, Clara Harris, had substituted for General Grant and his wife. When Booth shot Lincoln, Rathbone struggled with Booth and had his arm slashed with a dagger. Rathbone recovered from his injuries and he and Clara were married. But the marriage that had begun in the aftermath of tragedy was ill-fated. In 1883, while the couple was living in Hanover, Germany, where he was U.S. consul, Rathbone killed his wife and attempted suicide. He spent the rest of his life in an asylum for the criminally insane.
Boston Corbett, the man who killed Booth, moved west. He also succumbed to mental illness. The former hatter's behavior before and after killing Booth suggests that he may have been suffering the effects of the mercury poisoning common to men in his profession (the source of the phrase "mad hatter").
The connections between Abraham Lincoln and Albany are not limited to the people from Albany who played roles in the Lincoln-Booth drama. At the urging of Secretary of State William Seward, a former governor of New York, Lincoln donated a draft of the Emancipation Proclamation to raise funds to support the war effort. The draft was raffled off at an Albany Army Relief Association Fair in 1864 and now housed in the New York State Library and Archives.
Lincoln made his final visit to Albany in 1865, when his funeral train stopped in the city.
See these newspaper blogs about Booth and Lincoln in Albany:
http://blog.timesunion.com/chuckmiller/see-john-wilkes-booth-performing-in-an-albany-theater/228/
http://blog.timesunion.com/history/lincoln-albany-were-linked-in-tragedy/223/
http://blog.timesunion.com/rittner/18/18/
To learn more about Abraham Lincoln and New York State politics and culture, see the Lincoln Institute's "Mr. Lincoln and New York":
http://www.mrlincolnandnewyork.org/
For more on Booth, Lincoln, and the Civil War, see also the History.com interactive entry for "John Wilkes Booth":
http://www.history.com/topics/john-wilkes-booth
Selected Articles and Books about Booth and/or Lincoln
Clarke, Asia Booth (1938) The Unlocked Book: A Memoir of John Wilkes Booth. New York: G. P. Putnam's Sons.
Clinton, Catherine (2009) Mrs. Lincoln: A Life. New York: HarperCollins.
Good, Timothy S., ed. (1995) We Saw Lincoln Shot: One Hundred Eyewitness Accounts. Jackson: University of Mississippi Press.
Goodwin, Doris Kearns (2005) Team of Rivals. New York: Simon & Schuster.
Kauffman, Michael (2004) American Brutus: John Wilkes Booth and the Lincoln Conspiracies. New York: Random House.
Kimmel, Stanley (1940) The Mad Booths of Maryland. New York: Bobbs-Merrill.
Rhodehamel, John and Taper, Louise, eds. (1997) "Right or Wrong, God Judge Me": The Writings of John Wilkes Booth. Urbana and Chicago: University of Illinois Press.
Samples, Gordon (1982) Lust for Fame: The Stage Career of John Wilkes Booth. Jefferson, NC: McFarland.
Spiegel, Allen D. (1998) Dr. John Frederick May and the Identification of John Wilkes Booth's Body. Journal of Community Health, 23 (5): 383-405.
Steers, Jr., Edward  (2001) Blood on the Moon: The Assassination of Abraham Lincoln. Lexington: The University Press of Kentucky.
Stokes, Melvyn (2011) Abraham Lincoln and the Movies. American Nineteenth Century History, 12 (2): 203-231.
Swanson, James L. (2006) Manhunt: The 12-Day Chase for Lincoln's Killer. New York: William Morrow.
Titone, Nora (2010) My Thoughts Be Bloody: The Bitter Rivalry between Edwin and John Wilkes Booth That Led to an American Tragedy. New York: Free Press.
Booth and Lincoln in Popular Culture
Selected Films
The Hunt for John Wilkes Booth (2007) History Channel documentary based on Michael Kauffman's American Brutus
Lincoln (2012) Directed by Steven Spielberg, starring Daniel Day-Lewis
Abraham Lincoln, Vampire Hunter (2012) Starring Benjamin Walker, based on bestselling novel by Seth Grahame-Smith
The Conspirator (2011) Directed by Robert Redford, starring Robin Wright, as Mary Surratt, the woman charged with conspiring with Booth and her sons to assassinate Lincoln and his cabinet.
Abraham Lincoln in Illinois (1940) Based on the Pulitzer-winning play by Robert Sherwood, starring Raymond Massey
Young Mr. Lincoln (1939) Starring Henry Fonda
Abraham Lincoln (1930) Directed by D. W. Griffith
See the Illinois Humanities Council for extensive list of films:
http://www.prairie.org/humanities-resources/detours/lincoln-films
See also the Council's list of novels in which Lincoln appears:
http://www.prairie.org/humanities-resources/detours/lincoln-fiction
No fan of the original "Star Trek" series should have forgotten the occasion when Captain James Kirk welcomed Abraham Lincoln aboard the Enterprise. But, in case you have:
http://www.youtube.com/watch?v=7JWe3hCes1o
II. Lewis Carroll, Alice in Wonderland, and Through the Looking Glass
Image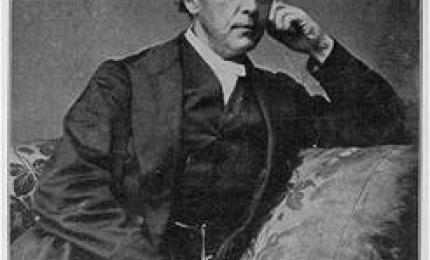 Lewis Carroll. Courtesy of the Library of Congress.
Lewis Carroll was the pen name of Charles Lutwidge Dodgson. Carroll, the author, is best remembered for two children's books -- Alice's Adventure in Wonderland (1865) and Through the Looking-Glass, and What Alice Found There (1871) -- that are also beloved by adults.  Dodgson, the Anglican deacon and mathematician, spent his academic life at Christ Church, Oxford.  A talented photographer, Dodgson's work included costumed photographs of the children with whom he loved spending time. These photographs have been the topic of lively debate among scholars about the beliefs and mores of the Victorian era.
The Red Queen makes her appearance in Carroll's Through the Looking-Glass.  When Alice complains that they have been running without getting anywhere, the Red Queen explains, "Now, here, you see, it takes all the running you can do to keep in the same place." One must run "at least twice as fast" to actually get some place else.  A hypothesis about evolutionary change is known as "The Red Queen's Hypothesis" or "Red Queen Effect."
Image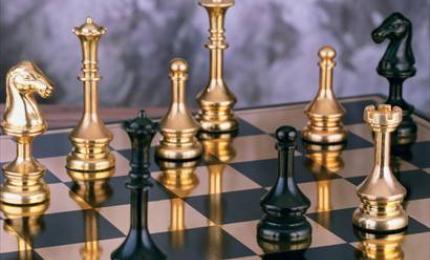 In Through the Looking-Glass, Alice encounters a number of intriguing creatures, including the talking flowers in the garden. Later, she meets the rotund twin brothers, Tweedledum and Tweedledee.  Alice's journey through the Looking-Glass world is presented in the form of a chess game.
When she reaches the sixth rank, she meets Humpty Dumpty (before his fall). Reaching the final rank, Alice becomes a queen, joining the White and Red Queens. Alice is invited to host a party that turns chaotic. She grabs the Red Queen and begins to shake her, and wakes, safe at home, holding her black kitten.
Alice's creator, Lewis Carroll, was born in 1832 and died in 1898. His contemporaries, real and fictional, included:
                Sir Arthur Conan Doyle and his fictional detective, Sherlock Holmes
                Real-life serial killer, "Jack the Ripper"
                William "Wilkie" Collins, author of The Woman in White and The Moonstone
                Charles Dickens, author of Bleak House and The Mystery of Edwin Drood
Websites:
For all things Lewis Carroll, see the Lewis Carroll Society of North America.
http://www.lewiscarroll.org/
For a website that focuses on the Alice books and the illustrations, see:
http://www.alice-in-wonderland.net/
For a slide show of Salvador Dali's illustrations for Carroll's Alice in Wonderland, see:
http://wonderland.paperstreetsupplies.com/gallery/dali-in-wonderland/
See this YouTube video for "what to look for when buying" a Salvador Dali edition of Alice in Wonderland:
http://www.youtube.com/watch?v=n9_jSL0NL9E
If you've lost your copy of Alice's Adventure in Wonderland, head to Project Gutenberg for a free online version, complete with the original Tenniel illustrations:
http://www.cs.cmu.edu/~rgs/alice-table.html
Through the Looking-Glass (the sequel to Wonderland) is also available online:
http://www.gutenberg.org/files/12/12-h/12-h.htm
If you're in New York City, don't miss these Alice locations:
For lunch or afternoon tea, try "Alice's Tea Cup" (at this and other locations):
http://nymag.com/listings/restaurant/alices-tea-cup01/
To commune with Alice and the creatures from Wonderland, head to the statue in Central Park:
http://www.centralparknyc.org/visit/things-to-see/great-lawn/alice-in-wonderland.html
Since 1903, when Alice in Wonderland was adapted as a silent film in the UK, the book has inspired films and television. Here's the trailer from the 2010 Walt Disney production from director Tim Burton that merges elements of the two Alice books:
http://www.youtube.com/watch?v=hetMTyBCnd0
Selected Articles and Books about Lewis Carroll and Alice
Auerbach, Nina (1982) Falling Alice, Fallen Women, and Victorian Dream Children. English Language Notes, 20(2): 46-64.
Carroll, Lewis (1992) Looking-Glass Letters. Selected and Introduced by Thomas Hinde. New York: Rizzoli.
Clark, Beverly Lyon (1983) Carroll's Well-Versed Narrative: Through the Looking-Glass. English Language Notes, 20(2): 65-76.
Cohen, Morton N. (1995) Lewis Carroll: A Biography. London: Macmillan.
Garland, Carina (2008) Curious Appetites, Food, Desire, Gender, and Subjectivity in Lewis Carroll's Alice Texts. Lion & the Unicorn, 32(1): 22-39.
Little, Judith (1976) Liberated Alice: Dodgson's Female Hero as a Domestic Rebel. Women's Studies, 3(2): 195-207.
Lovell-Smith, Rose (2003) The Animals of Wonderland: Tenniel as Carroll's Reader. Criticism, 45(4): 383-415.
Nickel, Douglas R. (2002) Dreaming in Pictures: The Photography of Lewis Carroll.  New Haven and London:  Yale University Press.
Phillips, Robert, ed. (1972) Aspects of Alice: Lewis Carroll's Dreamchild as seen through the Critics'  Looking Glasses, 1865-1971. London: Victor Gollancz.
Rackin, Donald (1982) Love and Death in Carroll's Alices. English Language Notes, 20(2), 26-45.
Restak, Richard M. (2006) Alice in Migraineland. Headache: The Journal of Head & Face Pain, 46(2): 306-311.
Rottenberg, Josh (3/5/2010) Hollywood's Mad Hatter. Entertainment Weekly, Issue 1092, 26-35.
Wheat, Andrew R. (2004) Dodgson's Dark Conceit: Evoking the Allegorical Lineage of Alice. Renascence, 61(2): 103-123.
Woolf, Jenny (2010) The Mystery of Lewis Carroll. New York: St. Martin's Press.
III. The Wizard of Oz and Albany's "yellow brick road" road"
Image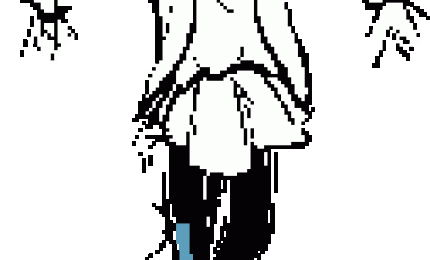 In L. Frank Baum's The Wizard of Oz (1900), young Kansan Dorothy Gale finds herself in the land of Oz after being caught in a tornado. She and her friends follow "the yellow brick road" as they set out to find the wizard, who they hope can give each what she or he needs. Like Alice in Wonderland, Dorothy encounters a number of fantastical characters, including her traveling companions, the Tin Man, the Cowardly Lion, and the Scarecrow. 
This book was the first in the series of Oz books written by Baum, who had connections to upstate New York.  The book's His yellow brick road is said to have been inspired by his memory of the road made of yellow brick found in Peekskill, New York, where he had attended military academy as a teenager. These same yellow bricks, produced by the process used to make them, can be found in the ruins of a bridge over the Normanskill Creek between Albany and neighboring Delmar.
Websites:
About Baum's inspiration for The Wizard of Oz and theyellow brick road
http://online.wsj.com/article/SB10001424052702304066504576343420557189888.html
http://syracusethenandnow.org/History/LFBaum/WizardOfSyr.htm
About Albany's "yellow brick road":
http://alloveralbany.com/archive/2009/09/01/the-yellow-brick-road
http://albanynyhistory.blogspot.com/2010/01/follow-yellow-brick-road.html
http://www.townofbethlehem.org/pages/History/historyArticlesYellowBrickRoad.asp
In search of an online copy of The Wizard of Oz?
http://www.literature.org/authors/baum-l-frank/the-wonderful-wizard-of-oz/
For all things Oz, including a list of all of the books in the series:
http://thewizardofoz.info/
For a different perspective on the Wicked Witch, see Gregory Maguire's Wicked: The Life and Times of the Wicked Witch of the West. Maguire is an Albany native and graduate of the University at Albany:
http://www.gregorymaguire.com/books/wicked.html
And then there is "Wicked," the smash Broadway hit based on the book:
http://www.youtube.com/watch?v=jyQmbsYOHyU
Further Reading on The Wizard of Oz
Bellin, Joshua David (2004) "I Don't Know How It Works": "The Wizard of Oz" and the
Technology of Alienation, Arizona Quarterly, 60 (4): 65-97.
Dighe, Ranjit, ed. (2002) The Historian's Wizard of Oz: Reading L. Frank Baum's Classic as a Political and Monetary Allegory. Westport, CT: Praeger.
MacDonnell, Francis (1990) "The Emerald City was the New Deal": E. Y. Harburg and The Wonderful Wizard of Oz, 13 (4): 71-75.
Parker, David B. (1994) The Rise and Fall of "The Wonderful Wizard of Oz" as a "Parable of Populism," Journal of the Georgia Association of Historians, 15: 49-63.
Schwartz, Evan I. (2009) Finding Oz: How L. Frank Baum Discovered the Great American Story. Boston: Houghton Mifflin Harcourt.
Street, Douglas (1984) The Wonderful Wiz That Was: The Curious Transformation of "The Wizard of Oz," Kansas Quarterly, 16 (3): 91-98.
Swartz, Mark Evan (2000) Oz Before the Rainbow: L. Frank Baum's The Wonderful Wizard of Oz on Stage and Screen to 1939. Baltimore: John Hopkins University Press.
Resource